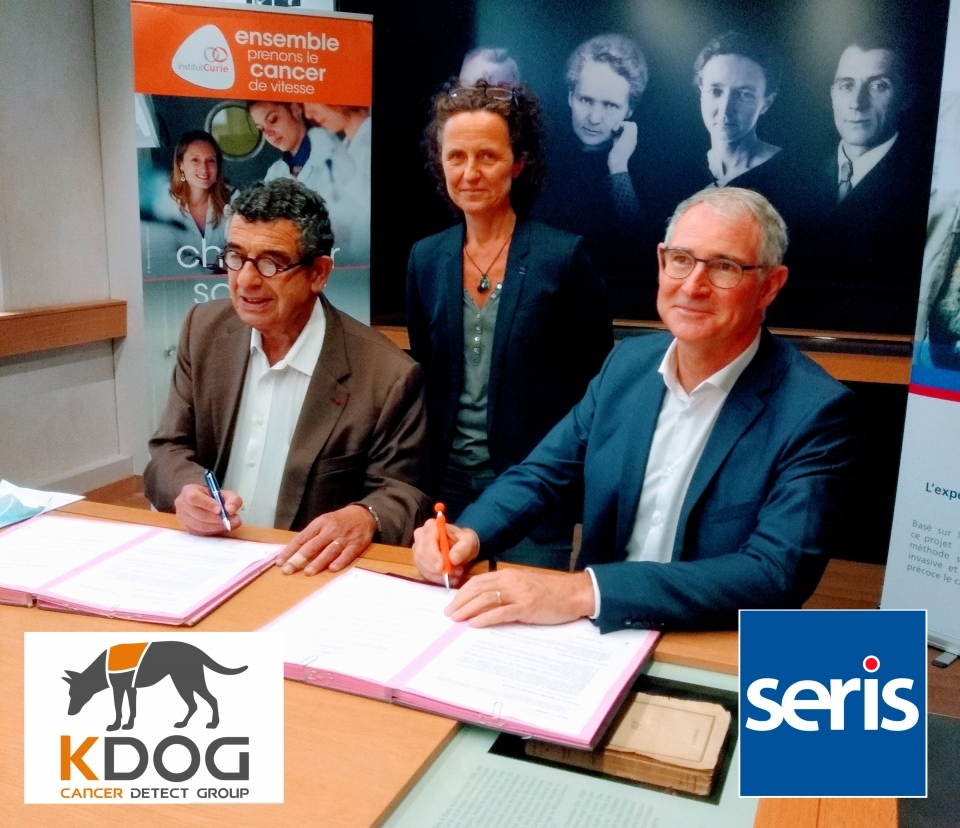 On Wednesday, September 30, in Paris, The Institut Curie and SERIS signed the two-year extension of the skills patronage agreement for the project KDOG.

It was signed by Pr Thierry Philip, Chairman of the Executive Board of the Institut Curie and Patrick Abgrall, CEO of SERIS, in the presence of Isabelle Fromantin, Scientific Manager of the Project and Audrey Prou, member of the Governance and Animation Board of the SERIS group, at the initiative of the first patronage agreement.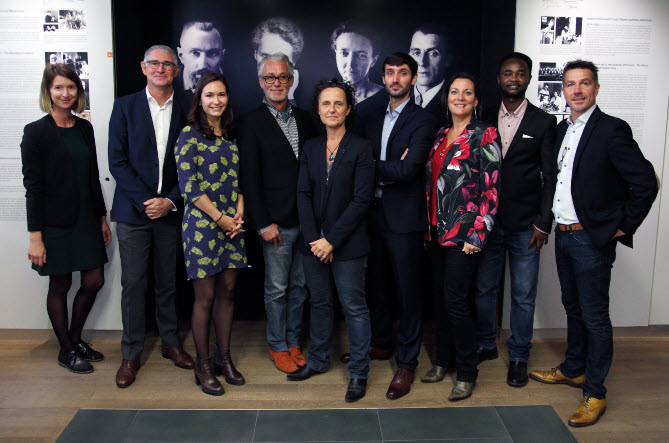 An affirmed re-commitment
On the eve of October Rose, the month dedicated to breast cancer awareness and prevention, SERIS signs its re-commitment to this ambitious and promising project.
Since 2017, SERIS has been participating in this breast cancer research and early detection program thanks to the availability of a team of canine experts in France. This international project focuses on canine odorology, whose olfactory capacities are 30 times greater than those of humans. Long used for safety and security purposes, particularly for the detection of explosives or firearms, the dogs' abilities today make it possible to participate in scientific and medical progress.
The patronage renewal agreement also plans to enrich the current system by developing a software platform for monitoring the work of the dogs, providing premises, acquiring the equipment necessary for the smooth running of the program, and supporting the organization of an international congress scheduled for 2021.
Through its commitment to KDOG, SERIS chooses to put its financial means and its canine expertise at the service of medical and scientific progress in a project of high human and societal value.
This desire to give substance to the convictions that have driven it for many years is part of the group's CSR policy.
« Our commitment to Project KDOG comes first of all from our determination to put our canine expertise at the service of a research project that is important to us. Our job being to participate in making the world safer by protecting people and property, we consider this patronage of skills as a natural extension of it. It is anchored in our values and supported by our social responsibility policy. Our commitment makes our teams proud by highlighting their know-how, it gives new meaning to our business and opens up the possibilities of applying our skills. » Patrick Abgrall, CEO of SERIS.
This affirmed re-commitment unites the Institut Curie, KDOG and SERIS around a common cause: protection and prevention for all.
To learn more about the KDOG project and SERIS' expertise, go to www.seris.fr